2016
|
2015
|
2014
|
2013
|
2012
|
2011
|
2010
2016
back to top
Korgel group students organized an event named "frozen chemistry" as a part of UT Girl day and Explore UT. Also Dr. Korgel educated young minds on the future of solar energy at Explore UT. Below are a few snapshots from the events.
&nbsp&nbsp&nbsp&nbsp&nbsp&nbsp&nbsp&nbsp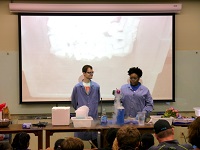 &nbsp&nbsp&nbsp&nbsp&nbsp&nbsp&nbsp&nbsp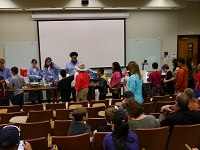 &nbsp&nbsp&nbsp&nbsp&nbsp&nbsp&nbsp&nbsp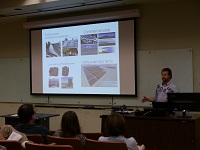 2015
back to top
Korgel group students demonstrated the concepts of refractive index and separations due to density difference in the ESI Science Fair. Dorothy Silbaugh and Vikas Reddy are pictured here while demonstrating these two cool topics to the next generation researchers.
The Korgel Group participates each year in two major Spring iniatives on UT Austin's campus. Explore UT, "The Biggest Open House in Texas" offers the community a chance to come and visit UT's campus and explore some of the capabilities and activities that university students are able to participate in on a daily basis. Both the Austin-American Statesman and Austin360.com featured photos of the demonistrations from the Korgel Group students on their web pages. Cherrelle, Adrien and Vikas are shown in the photos listed above.
The other yearly tradition that the Korgel Group is pleased to be involved with is Introduce a Girl to Engineering Day which is colloquially referred to as "Girl Day." Doug and Cherrelle are pictured here demonstrating the wonders of liquid nitrogen to a number of onlookers on February 22, 2014. Girl Day as a whole gives over 2,000 first through eighth grade girls a chance to experience what it's like to be an engineer for a day with a variety of fun and informative hands-on activities.

2011 back to top

Noted journalist Miles O'Brien, of PBS and CNN fame, presents a Science Nation feature on the group's research in this segment from February 14, 2011 entitled, "Spray-on solar panels."

2010 back to top

Learn about Powered Paint: Nanotech Solar Ink during Dr. Brian Korgel's Hot Science - Cool Talks lecture on Dec 3, 2010. Watch a video of the lecture here.