RECENT NEWS
11.13.2017 - Emily Adkins won the second prize at P&G poster competition.
11.01.2017 - Two new publication from the Korgel Group. Xiaotang discusses about Si-Ge nanowire hetero structures [link] and Adrien discusses about solvent effects in Si nanocrystal superlattice nucleation and growth. [link]
10.10.2017 - Check out new ACS Liveslides from the Korgel Group! Adrien presents our 2016 paper on ordered silicon nanocrystal cuboctrahedra superlattices: Click here for the slides.
09.23.2017 - New publication for the Korgel Group in JPC Letters! Yixuan Yu et al study bubble assemblies of nanocrystals. here is the link to the paper.
08.04.2017 - New publication for the Korgel Group in Nano Letters! Jackson Stolle et al study multiexciton generation in silicon nanorods & effect of aspect ratio on MEG QY. here is the link to the paper.
08.04.2017 - Last day in lab for summer student Yuki Nakashima. After this summer, Yuki will be returning to Kyushu University to complete his masters degree.
07.14.2017 - Vikas wins the chemical engineering paper of the year award for the paper "Flexible CuInSe2 Nanocrystal Solar Cells on Paper."
RESEARCH HIGHLIGHT
Role of Halides in the Ordered Structure Transitions of Heated Gold Nanocrystal Superlattices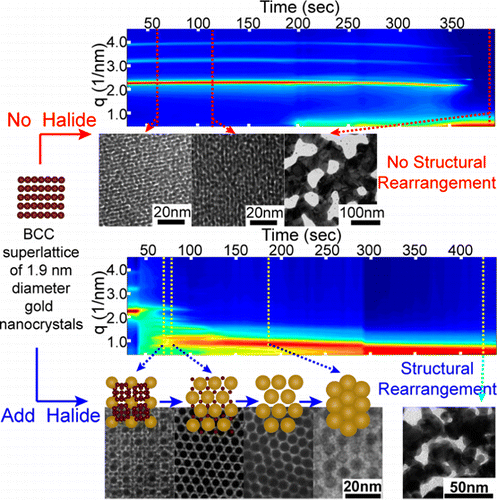 It is known that Dodecanethiol-capped gold (Au) nanocrystal superlattices can undergo a surprisingly diverse series of ordered structure transitions when heated. In this paper Yixuan Yu, Brian Goodfellow, Michael R. Rasch and Christian Bosoy showed that in the presence of halide-containing surfactants the nanocrystals ripen at much lower temperature and superlattices undergo various ordered structure transitions upon heating. This work was done in collaboration with Dr. Smilgies at Cornell High Energy Synchrotron Source (CHESS) and was recently published in Langmuir and selected as an ACS Editors' Choice article.