RECENT NEWS
11.08.2018 - Congratulations to Dr. Cherrelle Thomas, who just successfully defended her dissertation, titled "Surface Functionalization of CuInSe2 and CsPbI3 Nanocrystals: Conversion Yields, Exciton Kinetics, and Thermal Stability"! Dr. Thomas has also accepted a post-doc position with Sandia National Labs.
11.07.2018 - New paper from the Korgel Group published in Chemistry of Materials, where Dan Houck investigates ligand exchange in CuInSe2 nanocrystals facilitated by molecular iodine.
10.25.2018 - Check out the new publication from recent graduate Dr. Emily Adkins and the Korgel Group, where in-situ TEM is used to investigate pore formation in delithiated Si nanowires, featured in ACS Energy Letters.
08.15.2018 - Our own Mokshin Suri is a contributing author on the recent paper from Lance Wheeler et al. out of NREL, published in the Journal of the American Chemical Society. Congrats Mokshin!
08.07.2018 - Congratulations to Dr. Adrien Guillaussier, who successfully defended his dissertation on August 6th!
04.10.2018 - Congratulations to Dr. Emily Adkins, the newest graduate from the Korgel Group!
03.26.2018 - A new paper on opto-thermoelectric nanotweezers from the Zheng research group, featuring Emily Adkins as contributing author, has been published in Nature Photonics. Check out the paper here!
RESEARCH HIGHLIGHT
Role of Halides in the Ordered Structure Transitions of Heated Gold Nanocrystal Superlattices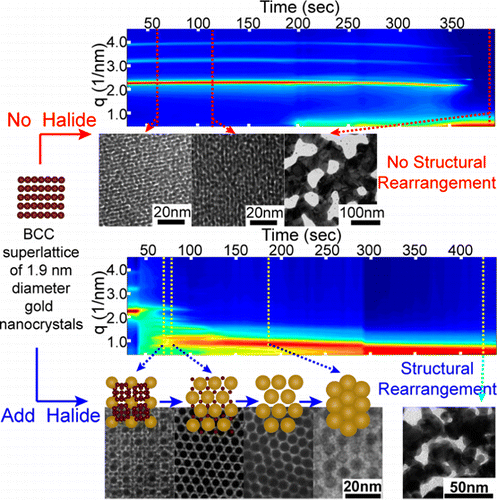 It is known that Dodecanethiol-capped gold (Au) nanocrystal superlattices can undergo a surprisingly diverse series of ordered structure transitions when heated. In this paper Yixuan Yu, Brian Goodfellow, Michael R. Rasch and Christian Bosoy showed that in the presence of halide-containing surfactants the nanocrystals ripen at much lower temperature and superlattices undergo various ordered structure transitions upon heating. This work was done in collaboration with Dr. Smilgies at Cornell High Energy Synchrotron Source (CHESS) and was recently published in Langmuir and selected as an ACS Editors' Choice article.